Saturday, March 10, 2001

The trip from Norwich, delayed a day by fierce snows, turned out to be a dreadful drive through very slick snow. At times we followed a plow, which kept the windshied wipers working hard. Additionally, we talked through the correct exit, and ended up in Batavia, and you can't get there from there. I must have looked frazzled, and Candy quickly poured a cup of excellent coffee.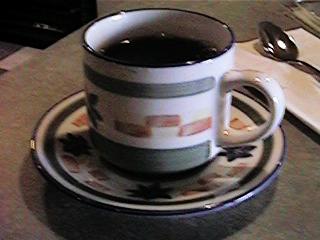 We were pretty hungry, and Gwendolyn brought out a large, steaming bowl of chicken soup that was full of curly noodles and generous chunks of chicken. It was delicately seasoned but hearty and was very well received. There are generally two soups, but the cream soup had sold out. Once we had taken a few pictures, we checked out the menu: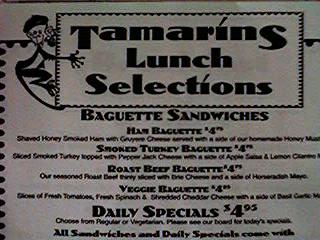 We shared the Roast Beef Baguette with Brie. The salads today were hummus, tomato/artichoke, and Asian rice. Candy served all three, so that we could sample them, although you are expected to choose only two of the daily salad specials.

The tables are small and cosy. A monkey lamp and fresh flower are a nice touch.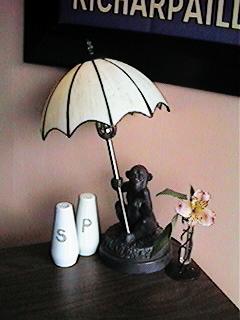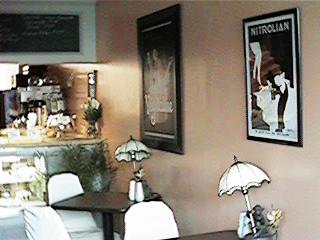 The pastries are beautiful and sensibly priced. There were no Danish left, and the large portions of brownie for only $1.75 tempted us. The cake slices are generous and beautifully presented. One of the customers said that the peanut butter pie was out of this world, but we were really full, and had to pass up dessert. When Denise brought out huge custard creampuffs, we were really sorry we were full!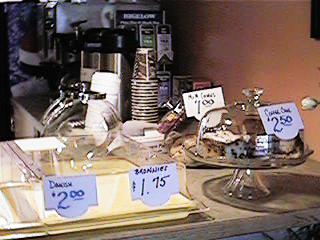 We are looking forward to returning to
Tamarins Cafe and Bakery
32 Main Street
Brockport, NY
(716) 637-5480
Candy Schoeberl and Gwen Howard, Proprietors.
Featuring Mama Newman's Baked Goods, prepared by Denise Newman.
My guess is that their box lunches would make a great picnic!