Pictures and descriptions from Dixondale Farms.
Long Day Sampler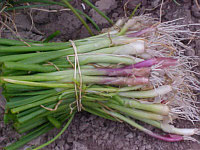 Their most popular varieties – Walla Walla, Red Burgermaster, and Ringmaster. A wonderful mixed assortment (appx. 5 doz.) that allows gardeners with limited space or who want to try some new varieties with an economical option. This combination is a unique offering from Dixondale Farms.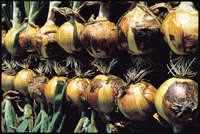 Walla Walla
This open pollinated yellow onion is the pride of the Northwest and the sweetest of all the long-day varieties. A retired French soldier introduced the seed to Washington State in the late 1800s from Corsica. Fastest-growing of long-day onions. Open pollinated, stores approximately one month, matures in 90 days, semi-flat, yellow.

---
Red Burgermaster

This is the most expensive onion seed we buy but it is worth every cent. Seed was very limited this year but we were able to buy all the seed that was available. The sharpness of the red bulbs and the sweetness of its interior make this red onion the most popular red onion among northern gardeners. This onion has just the right flavor to accent your burger or your favorite salad. Hybrid, stores approximately 3-4 months, matures in 105 days, globe-shaped, red.
---
Ringmaster

This is an improved strain of the White Sweet Spanish. It produces larger bulbs with firm, mild flesh. It is the favorite for onion rings since it has single centers and large, crisp rings. With its large, dark green tops, it also is a favorite for green onions. Open pollinated, stores approximately 4-5 months, matures in 105 days, globe-shaped, white.
---
---
We also ordered three other kinds.
First Edition

This is the first storage onion we made available and it is still a popular storage onion variety. It uniformly produces medium size bulbs that are great for cooking and freezing. Its thin neck allows no air to get to the bulb for sprouting during the storage season. Hybrid, stores approximately 10-12 months, matures in 110 days, globe-shaped, yellow. Performs well in northern portions of intermediate day areas as well.

---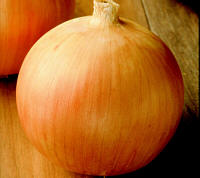 Big Daddy
These extra-large, yellow bulbs produce a more tender flesh suitable for eating raw. Big Daddy grows well in most areas of the country because it is the earliest maturing storage onion that we have available. It will not store as long as the First Edition or Copra, but is by far the largest onion of the storage types. Hybrid, stores approximately 8-10 months, matures in 110 days, globe-shaped, yellow.



---
Red Zeppelin

What a name! What an onion! When grown from transplants, it will produce jumbo and colossal bulbs. Based on customer feedback, we have replaced the Red Bull with this more widely adaptable red onion. We are sure Red Zeppelin will please more of our customers! Hybrid. Stores approximately 8 months. Matures in 110 days. Globe-shaped, dark red.


---
---
We are also starting some from seed.


Onion Hybrid Granex Yellow PRR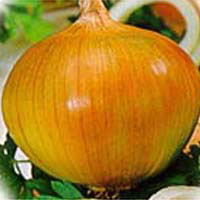 One of the sweetest onions available. Large, thick, flat bulb shape with very mild flesh. Stays firm, crisp and sweet when stir fried. Unfortunately, a short-day onion, so it won't do well here.


Cipolla Dorata di Parma

An Italian onion with large, top-shaped bulb, flattened at the poles, numerous external tunics with a beautiful golden yellow color and great flavor. (Gilded Parma Onion)

Cipolla Valenciana tardia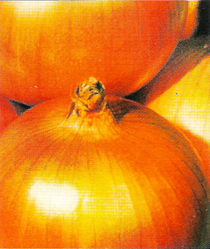 A medium late globe-shaped onion, very large, with a dark yellow coat and sweet, white flesh.
The first part of the summer was quite dry, and D had to water the onions frequently. Not an easy task, since it meant carrying buckets of water from the hand pump to the garden.

It was worth it, though.


This is the potato and onion garden, and beans and flowers will be growing on the fences later in the season. Each garden must be fenced. Between the deer, the woodchucks, the rabbits, and the cats, it is a battle to beat them to the produce.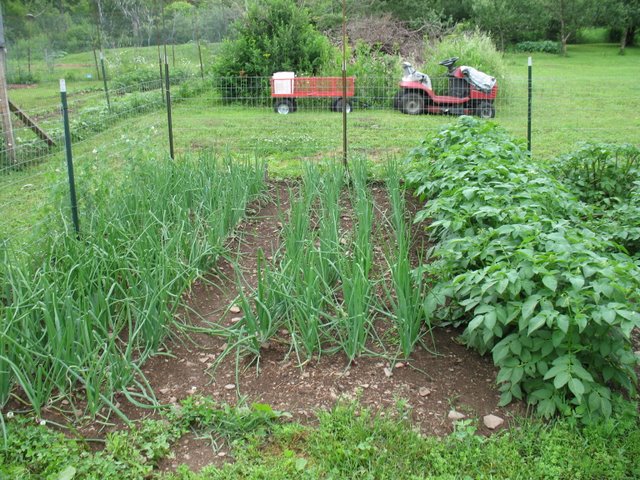 The harvest was excellent.




It is a real joy to feel free to eat onions and scallions to our hearts content, plus have a lot put by for the winter.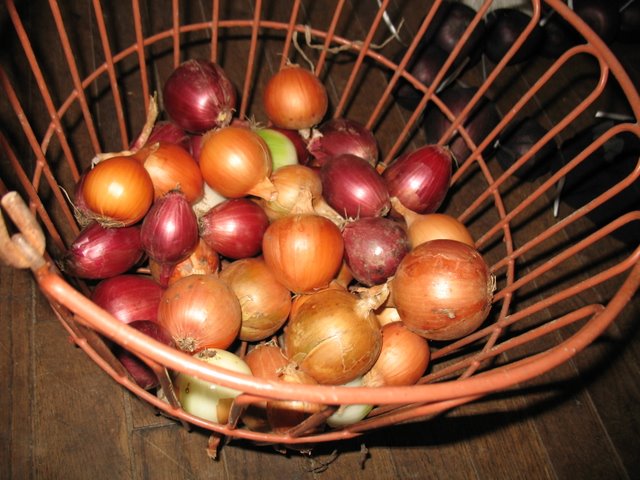 We made many jars of bread and butter pickles, our favorite. Plus tomato sauce. And salsa.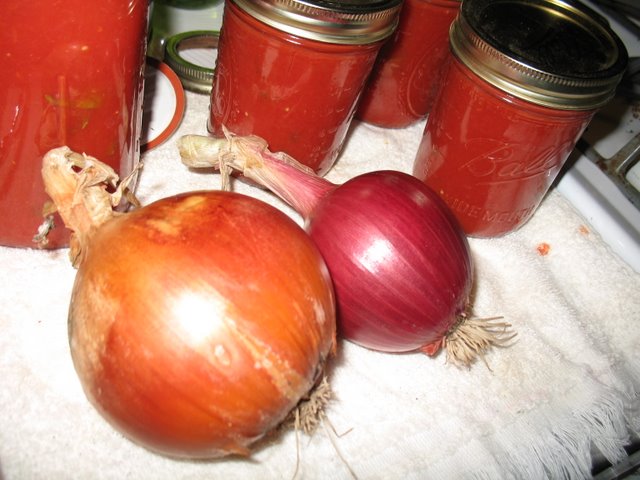 We followed a suggestion we read to put the onions in pantiehose - we tried it, but probably won't again.
We then hung them from a clothes rack - which broke during the night and scared the liver out of us.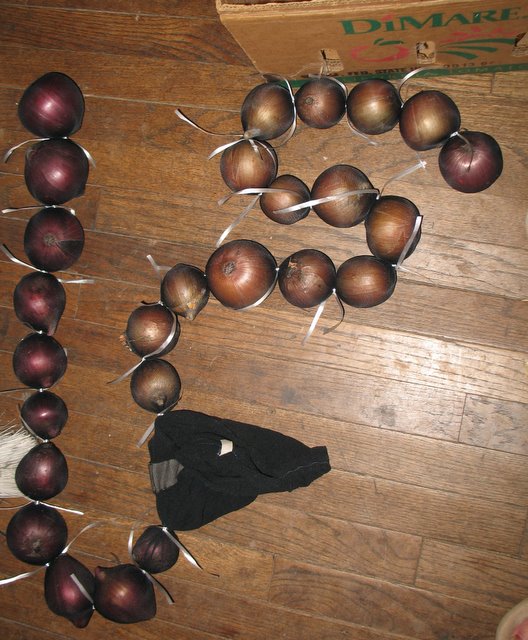 I think that D will make wire racks for them for next year.

We have received the Dixondale Farms catalog and are looking forward to ordering.

If you want to join me in an order, let me know - there are price breaks for ordering in quantity.


We have enjoyed the fruits of D's labor!