Jack Go To Bed at Noon
Jack-go-to-bed-at-noon (Tragopogon pratensis)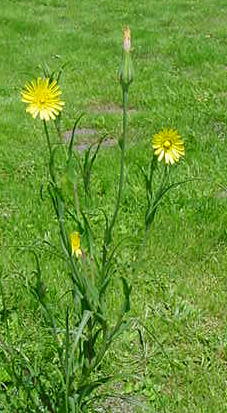 This flower gets its nick-name from its flowering habit. It opens in the morning and closes midday.
Jack-go-to-bed-at-noon is also known as Yellow Goatsbeard. (can't imagine why)
A more apt name, but one I have only read (not heard) is Shepherd's Clock.
~
As the immortal poet Cowley pens:
'The goat's beard, which each morn abroad doth peep
But shuts its flowers at noon and goes to sleep.'
(I haven't the faintest clue who Cowley is. The only reference I have found is as the author of this poem.)
(It may be Abraham Cowley, who is famous for: "life is an incurable disease")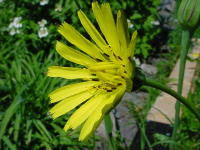 Plant Type: This is a non-native herbaceous plant which can reach 90cm in height (36inches).
Leaves: The leaves are alternate. Each leaf is entire, slender, tapering to a long narrow tip and clasps the stem.
Flowers: The flowers have numerous parts. They are yellowgreen. Blooms first appear in early summer and continue into mid summer.
Fruit: A ball of wind dispersed achenes.
(In case you are wondering what achenes are:
achene: Small one-seeded, thin walled, indehiscent fruit smaller than a nut.
Let's see you use indehiscent in a sentence!
indehiscent: Not opening at maturity.)
Habitat: Fields, fencerows and waste places.
Source:
http://2bnthewild.com/plants/H162.htm
The seeds of this flower resemble delicate dandelion fluff.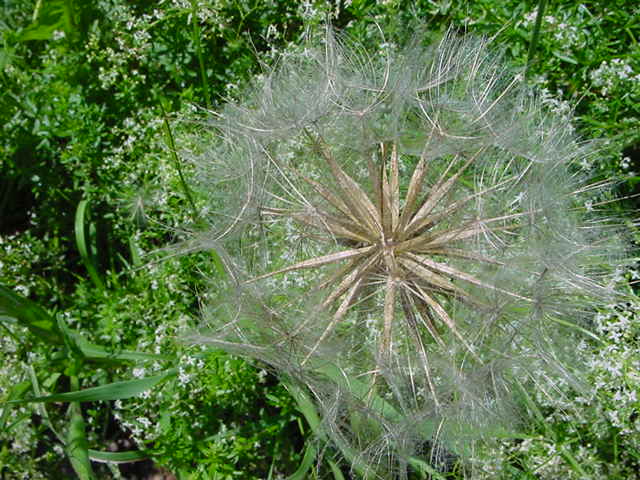 In the above picture, there is bedstraw in the background.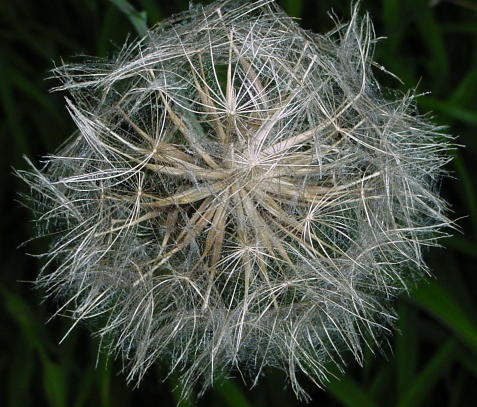 ~
Cecily Mary Barker has captured the essence of this weed in the Jack-Go-To-Bed-At-NoonFairy: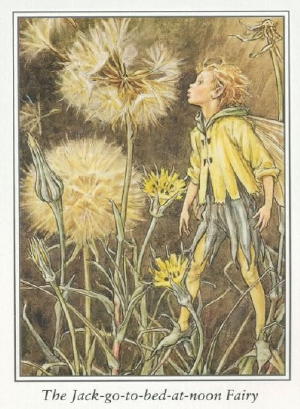 Keep your eye out for the Jack Go to Bed at Noon Fairy while you are out looking at wildflowers.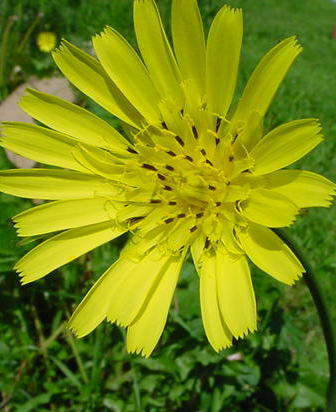 ~~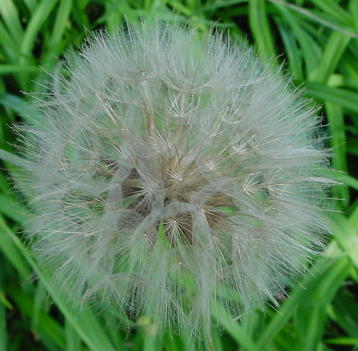 Photos taken in June and July, 2001
Copyright Leslie




Please send your comments. Thanks.