There are five pictures on this page.
If they don't all come in, please
e-mail
.
Thank you.
Frankie is 22 months old.


Frankie has a new do.
Frankie is learning the power of words. He likes saying Hi!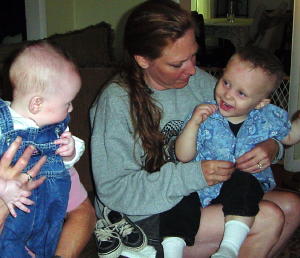 "Hi, Peri."
Frankie makes sure Mommy gets lots of exercise.
This is a game of "Go In and Out the Window".
Note the tongue! Where does the boy get it?
It's a little too soon for markers!
Amazing eyes,
but the allergies are a killer!
Published 9/703
Photos by Leslie and David
Send comments, please. We love to hear from folks.