Chittenango Falls
State Park,
New York
July 22, 2002
We are off on another adventure - a day trip.
The adventure began at Wegmans where we stocked up on olives, bread, cheese, and pate'.
We took a different route home from Syracuse, going toward Utica on Route 5, and then south on route 13 toward Cazenovia. We were considering picnicking at Lorenzo House in Cazenovia, when a lovely waterfall appeared on the right, shortly followed by a sign to Chittenango Falls State Park.
Decision made...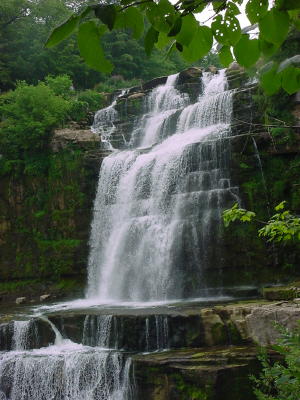 We paid the $5 parking fee and carried our goodies to the picnic tables.
There was a map of the area showing the path to the falls.
"Stop first near the top of the falls where the 167' waterfall cascades over a series of limestone terraces."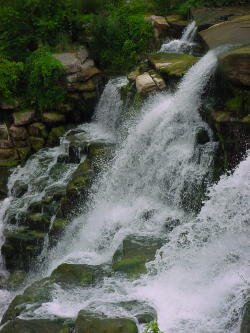 We did, and were impressed.
One of Leslie's colleagues had mentioned what a great walk it was to see the falls from various viewpoints.
Leslie neglected to remember that it was one of the young colleagues.
At this point, we were obviously not thinking clearly - 167 foot drop means lots more than 167 steps down, and of course, what goes down must come up unless you want to sleep in the falls.
~
"A scenic, but rugged, trail leads to the bridge at the bottom of the gorge. Halfway down is a resting bench from which there is a "camera-perfect" view of the falls."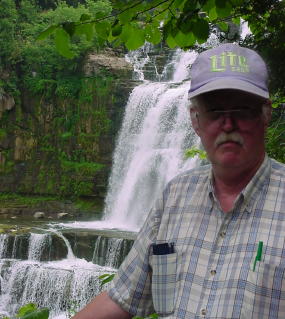 David doesn't need a rest. Onward....
~
"Continue down this trail, noting the great variety of interesting ferns, wildflowers and shrubs which grow along the steps and ledges."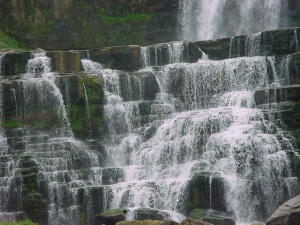 "From the bridge (at the bottom) enjoy the spectacular view of the falls in one direction and the view of scenic Chittenango Creek in the other."
It was beginning to be difficult to enjoy the view because Leslie was so distracted trying to remember if it was Ruthann or Linda who suggested this adventure.
It had also begun to hit home that the way up was not likely to be easier than the way down.
Perhaps it was not clever to try this adventure at 95 degrees with 70% humidity.
Actually, it was great fun, as you can tell from the smile (or is it grimace?) at the end of the hike.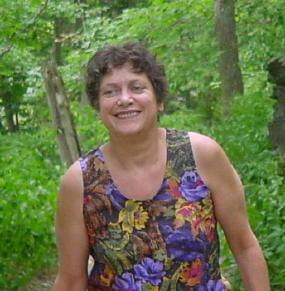 I think it was Linda...